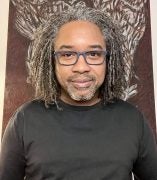 Mario LaMothe, PhD
Assistant Professor
Black Studies
Anthropology
Contact
Building & Room:
University Hall 1207
Address:
601 S. Morgan St.
Office Phone:
Email:
CV Download:
About
Mario LaMothe's research agenda involves embodied pedagogies of Afro-Caribbean religious rituals, and the intersections of spectatorship, queerness and social justice in Black Atlantic sites. These areas are crucial to his pedagogy of social change and curatorial practice. He couples scholarship with praxis to advance a dialogic engagement with the intellectual and cultural well being of people of African descent.
His book manuscript Vodou/Voodoo Bodies: Artistry, Memory, and Imagined Haitian Identities documents and analyses contemporary Haitian dance as an especially potent site for recuperative performances of blackness by Haitians, especially following the devastating January 12, 2010 earthquake. A metonym for Black liberation, the country continues to be belittled as ruinously queer: a hellish "voodoo" place. Through ethnographic research, he investigates the ways in which Jean-René Delsoin, Roxane D'Orléans Juste, Kettly Noël and Jeanguy Saintus confront pre and post-disaster constructs of Haitianness, within a dialogic artist-presenter-spectator network in Haiti, the United States, Canada, Venezuela, and Mali. The social justice project situates how his interlocutors and their dancers leverage the aesthetics, philosophies and embodied techniques of the Africanist religion Vodou to simultaneously revive and destabilize spectators' misconceptions about Haitians and their expressions of Blackness. Drawing from Vodou––a danced heritage–– enables Haitian choreographers to rehearse non-normative identities and rethink the strictures of human experiences.
His second project Bodily Rites/Performance Rights juxtaposes oral history with Africanist dramatic conventions as pedagogical methods that not only create dialogues between ethnographic subjects and readers or performers but also enable wide circulation of knowledge about misunderstood lifeworlds. Gender and sexually liberated men and women narrate their experiences of spirit possession, tolerance, and discrimination in the interrelated spiritual spaces of Haitian Vodou, African-American Voodoo and Hoodoo, Cuban Santeria and Brazilian Candomblé. A pedagogical tool to assess critical intersections of Black embodiment and aesthetics, Bodily Rites/Performance Rights chronicles how divinely guided bodies navigate places of worship as they seek not only to critique social relations but also to transform them.
Mario LaMothe's writing is featured in peer-reviewed and commercial publications such as e-misfèrica, Conversations Across the Field of Dance Studies, L'imparfaite, The Routledge Companion to African American Theatre and Performance (CAATP), Scalawag, and Women & Performance.
Education
PhD Northwestern University, March 2015. Performance Studies
MFA Brooklyn College (CUNY), 1999. Performing Arts Management.
BA Boston College, 1992. Theater Arts and French Studies
Licensures and Certifications
Certificate Alvin Ailey American Dance Center, 1994. Dance