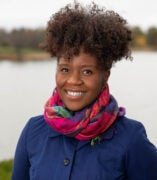 Jaira Harrington
Assistant Professor
Black Studies
Pronouns: She/Her/Hers
Contact
Email:
CV Download:
About
Dr. Jaira J. Harrington (she/her/hers) is an Assistant Professor of Black Studies at the University of Illinois Chicago. Prior to this faculty position, Dr. Harrington served as a 2017-18 William J. Fulbright Postdoctoral Scholar in Brazil. Dr. Harrington earned her doctorate in Political Science in the subfield of Comparative Politics at the University of Chicago. Her current research and writing focuses on the union organizing of domestic workers in unions in Brasília, São Paulo, and Salvador.
Selected Publications
2021. "Essential, Yet Expendable: Brazilian Black Women and Domestic Work in the Age of COVID-19." Kalfou: A Journal of Comparative and Ethnic Racial Studies, Spring and Fall 20218(1-2): 221-236.
2021. "Beyond the Gates: Teaching Race and Politics in Brazil in a Prison Education Program." Radical Teacher, Radicalizing the Liberal Arts: Race and Racism at Small Liberal Arts Colleges Online, December 9, 2021 121: 24-30. https://doi.org/10.5195/rt.2021.995
2015. "A Place of Their Own: Black Feminist Leadership and Economic and Educational Justice in São Paulo and Rio de Janeiro, Brazil." Latin American and Caribbean Ethnic Studies Journal, September 2015 10(3): 271-287.
Education
Ph.D., University of Chicago.
M.A., University of Chicago.
B.A., Spelman College.