Apr
18
2023
2023 Grace Holt Lecture: Foodways and Food Justice in the African Diaspora Featuring Dr. Psyche Williams-Forson
Grace Holt Annual Celebration (Hybrid Event)
April 18, 2023
3:30 PM - 6:00 PM CT
Location
Student Center East (SCE), Room 301/302
Address
750 S Halsted St, Chicago, IL 60607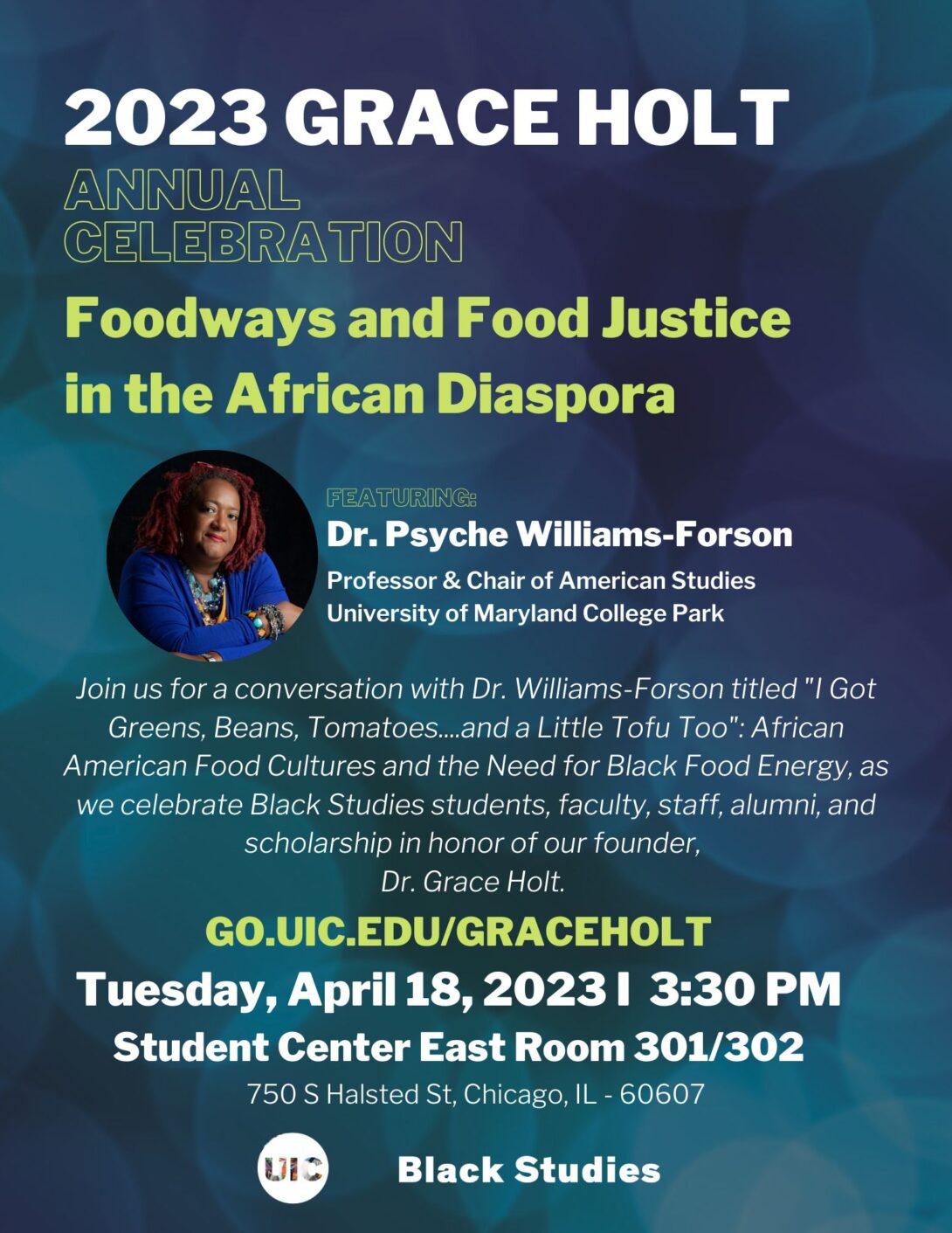 Join the Department of Black Studies as we celebrate the legacy of our founder, Dr. Grace S. Holt as well as the achievements of students who committed to the advancement of the lives of Black people and the field of Black Studies.
Following the awards presentation, in this year's lecture, "I Got Greens, Beans, Tomatoes....and a Little Tofu Too": African American Food Cultures and the Need for Black Food Energy, our keynote speaker Dr. Psyche Williams-Forson will discuss the richness of Black food—as Diasporic, global, and varied—and problematize deficit orient perspectives to Black food. This discuss will encourage us to think broadly about Black communities and food and to recognize the need for Black Food Energy--food spaces and dialogues that embrace the many facets of who we are as "beautifully human."
An in-person reception will follow keynote and Q&A.
Please note that there will be an option to attend the awards presentation and lecture virtually. Register to receive the link. 
RSVP today at https://forms.uofi.uic.edu/sec/450160152
About the Speaker:
Dr. Psyche Williams-Forson is Professor and Chair of the Department of American Studies at the University of Maryland College Park. She is an affiliate faculty member of the Theatre, Dance, and Performing Studies, the Departments of African American Studies, Anthropology, The Harriet Tubman Department of Women, Gender, and Sexuality Studies, and the Consortium on Race, Gender, and Ethnicity. Dr. Williams-Forson is the author of Eating While Black: Food Shaming and Race in America (UNC Press 2022); Taking Food Public: Redefining Food in a Changing World, a co-edited collection w/Carole Counihan, (Routledge 2013); and, the award-winning Building Houses out of Chicken Legs: Black Women, Food, and Power (UNC Press 2006). 
She is known nationally and internationally for her pioneering work in building the scholarly subfield of Black food studies and has published articles numerous on this aspect of the material lives of African Americans in the United States from the late 19th century to the present. This includes topics like Black women, food, and power; food and literature; food and sustainability; race, food, and design thinking; eating and workplace cultures; as well as the historical legacies of race and gender (mis)representation, with (and without) food, and more. She has also been interviewed on several podcasts, NPR, Radio New Zealand, the Associated Press, the Washington Post, Huff Post, the New York Times, among others. She has also been featured in documentaries such as: Netflix's Ugly Delicious; and,The Invisible Vegan.
RSVP
Date updated
Apr 18, 2023