Student Spotlight: Yvonne Livingston
Yvonne Livingston, the 2019 Promise Prize Scholar and recipient of the 2020 Grace Holt Memorial Award, discusses her experience as a student at UIC and in the Department. She also speaks about being a mother and nontraditional student. The interview was conducted by Carlos Bossard in Fall 2019.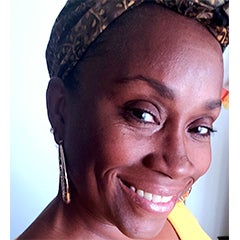 "…I'm a nontraditional student, and coming back to school at this stage of the game was challenging for me. But it also, it's been very, very rewarding."

2020 Grace Holt Memorial Award Recipient & AAST minor

|
Thank you so much. I appreciate your time. To start out, tell me about yourself. Who are you? What are you majoring in? What do you like to do in and outside of school?
Yvonne Livingston: My name is Yvonne Livingston. I'm a senior here at UIC. My major is psychology and a minoring in Afro Studies. I'm a mom. I have six children outside of UIC, but most of them are grown. My youngest just turned 18.
Oh, wow.
Livingston: So, I'm done!
You're free!
Livingston: Well, I won't be until she's finished with college. She does want to go. Other activities that I do, I'm interested in volunteering here on the campus, also off the campus. On campus, I'm part of the student leadership and civic engagement. I participated with leadership. I'm interested in changing my community and understanding what my community looks like. Doing these great partnerships with UIC is kind of giving me a perspective of what that might look like once I leave. The other thing that I'm interested in is nonprofits; we kind of started one. I came in with another partner when I was on the campaign trail for Amara over the Spring semester.
So, I met someone and she started an organization where, we're not as officially established yet, but the goal is to educate our community. The organization is called RAW: Residents Association on the West Side. I don't live in the Austin community, I'm actually in Pilsen, but the things that she's promoting: health, education, jobs, what our nonprofits and our neighborhoods do, don't do. We kind of look at ourselves as the good police of a neighborhood, just looking at different aspects of what's going on in the community. She brings awareness for jobs, I bring awareness for housing and mental issues within a community. With that being said, I've now taken a fair housing [education] class at John Marshall [UIC Law School]. Now since it's part of UIC; its UIC's John Marshall (Currently known as University of Illinois Chicago School of Law). We're talking about fair housing and what that looks like, and gentrification. Because in Pilsen, my neighborhood, it's being heavily gentrified.
You said that you were majoring in psychology and then minoring and afro studies. What attracted you to that minor?
Livingston: UIC has some wonderful professors. I'm a transfer student, so I transferred in my junior year, and my first Afro Studies class was with Professor Johari Jabir. He was teaching Black Lives [in Historical Content]. I've taken Afro Studies classes before, but this was different. This one, it was the history of Black Americans pushing back against slavery, against Jim Crow laws. Our lives have mattered throughout the whole process. From that class, I took Race and Urban Development with Professor Cedric Johnson and that class was transformative as well. So much so, that class changed my life and how I view things now in the world. It also taught me about my life because, I'm a nontraditional student, and coming back to school at this stage of the game was challenging for me. But it also, it's been very, very rewarding. From taking his class, while I was in his class, is when I declared a minor for Afro Studies because for me, I have to be able to understand the community in which I want to help. I can only draw on my experiences.  But it's something else totally different to get that whole understanding of a historical background of mental issues within communities of color, especially African Americans. Professor Jabir told me to talk to Briana Hanny, because I was interested in some more classes, but not really sure what. And when I had a conversation with her, she was listening to me, and she's like, "Oh, you may be interested in taking this class or that class." it was like collaboration. And that's how I landed at Cedric Johnson's class. I'm currently taking Chicago policing.
And it is absolutely fantastic. There are difficult conversations in that class. Yesterday we talked about the history of policing, how it got started and what that looked like. And we talked about it from Chicago's perspective because America was founded by Indigenous people. They were already here. We'll talk how Europeans came over and was like, "Okay, well, then we need your land", and the pushback, what that started. It was very interesting because he talked about Fort Dearborn, which we have markers downtown for, the original position at Fort Dearborn. We learned in class what it was initially set up for. It's a very interesting class. You should check it out and definitely take Race and Urban Development with Cedric Johnson. It is life changing, life altering. So much so when I saw Dr. Jane Rhodes at the Promise Prize I started telling her about Professor Johnson's class and how it changed my life and how wonderful the class was. She took me to another UIC administrator and was like "tell her what you just told me!" I think education at its finest is not only understanding the community you're a part of but understanding yourself. It comes back to you, and what can you do to better that community, or better yourself. Being more mindful.
You won the Promise Prize. Take me back to that day that you won. What were you feeling? What were your emotions?
Livingston: Okay, so, I will be strictly honest here. I thought it was a joke. Because when I first opened up the e-mail and it was from Helen Jun.  (I have some spam come through from UIC emails) I was like, is this real? I was actually studying for my psych stats, it was so hard, and I showed my tutor. I was like 'look at this'. He was reading it and was like "Oh , man congratulations!" and I was like, is this real? And he was like "Yeah, let me host something!", it took a minute to sink in because I didn't know what it was. I didn't know who nominated me, nobody said anything. I wasn't even aware that my name was thrown in a hat for something. So when I met with Professor Jun she told me, "I just want to tell you out of all my years being here and us doing the Promise Prize I have never seen a letter [of recommendation] like this for anyone. She said Professor Jabir and [Professor] Johnson got together and wrote a letter for me to recommend me for the prize. And I did not know. When she was telling me, I started crying.
I felt like I didn't belong when I came here, I am a nontraditional student and I came from community college. Coming here was a total difference, I felt like this was another world. There was another professor I talked to, my psych professor, who was instrumental in me staying here. She said, "do you feel like you belong here? Do you feel like you're smart enough?", and I was like, "Yeah", she was like, "Good, because you do belong here, you just gotta learn the language." That was the same thing Professor Jabir told me. He said, "You have to learn the language, that's it. Your experiences that you bring, use them to your advantage." He said, "Don't lose your experiences trying to obtain the knowledge." From his conversation in the fall, at the end of his class when he told me, I've taken that on, that's what I took to Professor Johnson's class, my experiences, what I've lived, and used them in the classroom. that's what's made the difference for me being here at UIC. I've been using my experiences. Being outspoken, being caring and compassionate about what's going on around me. Being aware of what's going around me, because that's what Johnson's class taught me.
You kind of touched on it before, but another part of this award is having an opportunity to go to that leadership summit held by Change, Create, Transform Foundation. What was that like? What was the summit like?
Livingston: The first day was meet and greet. We had lunch together, we got to introduce ourselves. From there we broke off into a discussion group to tell us what the program was and what was expected. We had to come up with a theme to say what the Promise Prize meant to us. We all had to work together, we have to come up with a theme and we had to make a speech. Work! We did [the] work. I was tired. Everybody was tired. We had people come from New York, Boston, we had people come from different colleges to Chicago. I live here so I didn't' get the change to travel. We had to do our collaboration. And when we finished, everybody was like, "Oh, we're going to say this". It was rehearsed and we practiced right before we went on. But while we were sitting there, and all this happened the first day, while we were sitting we heard all these people come up and speak about the program and what it meant to so many other college students or, you know, peers throughout the whole program. And so, people that Vicky Prior has partnered with, we heard from them. We heard from our chancellor. Heard from some city officials. It was very impactful. I had prepared my speech. I was looking for my paper and I said, "You know what, I was prepared to read something I wrote but just the atmosphere and what everybody has said about this program completely identifies with who I am and my community." Because my community, I'm not talking about someone who looks like me. I'm talking about somebody who identifies with my morals and my values, that's what my community looks like. Anybody who wants to be on board with that, that's what I want. That's what I saw in the room that night. You know, everybody spoke highly of Vikki Prior, her grandmother, Mary Nesbitt, and just all of the different connections that the program has made over the years. I think it's coming in on this 20th anniversary. It's is something I want to continue to be a part of. One thing we can say too for my answer is that they never gave up. There was always somebody fighting on the front thinking about the generations ahead. That's what I want to do. I want to fight now, thinking about the generation ahead that's going to benefit from any work that I do. That's what the summit was.
The next day was a tour. We did a tour of Chicago, and that's what it was. We went to lots of different neighborhoods where the Black Migration happened from the South, where Blacks were fleeing from Jim Crow laws–the neighborhoods that they settled in are here in Chicago. We went on the South Side; we started over here the West Side over here on campus. Our tour guide gave us a history. And then I gave the history because I lived in these neighborhoods, that we toured, as a little girl and then as an adult. I was kind of in the background giving another tour.
That firsthand account, that narrative is very powerful.
Livingston: My peers were happy. They said they'd come back to Chicago. And I was like, "Yeah, come back, let's hang out!" It was another family created for me because I like that, once you spend time with people, we [spent] a lot of time together those three days.  It started on Friday and then the close out breakfast was to tell about that experience for the weekend. It was very impactful for me to see people collaborating on such a grand scale and to see younger people. I wasn't the only older adult, but it was mostly younger people, and it gives me hope for our future that, somebody else is taking the baton and saying, "Let's run on", that's what it meant for me.
That sounds really intense, very emotional, lots of things coming up, but I'm glad you're able to share your experience with the second tour back. Is there anything from that summit that really stuck with you that maybe you told your kids,  or maybe that you keep in the back of your mind?
Livingston: What Vikki's doing. Just the whole thing. The way she spoke. I'm a big proponent of oral history because all of our history is not told. Vikki brought in an oral history of her family. I have an oral history of my family, I spoke with my grandmother who was a part of the great migration. All of our experiences, even though we end up in different places, started somewhere, and it started at the same point. To get somewhere where we can be free to express ourselves free to enjoy this place called America, and what that looks like for Black people.
Vikki, her torch carrying, because I see somebody who is reaching the age where they've built this and she keeps passing in that baton so that when she's ready to say I can no longer run on, she has enough people to keep that dream up. That's what I told her at the breakfast, that I want to make her proud of her grandmother's legacy through me, the same way I want to make my family proud through their hard work, what they took for me. I no longer have to physically put my body on the line. But for those who did, I want to honor that and keep moving forward. That's why I do some things that I do. I don't always have time, but if I took the perspective of "I don't have time" and apply it to someone before, I wouldn't be where I am now.
The Department African American Studies is currently going through a name change, which should be approved soon. We're going to be changing to the Department of Black Studies. I want to get your opinion, what do you think about this change and how do you think it will uplift not only UIC students, but Chicago and beyond?
Livingston: To be honest, I'm going to speak plainly, the term "African Americans" don't always sit well with me. We've come from all over, the diaspora of Blackness is South America, Africa, even here. I've learned there were Black people here before slaves came over. We've been all over. So the term African American doesn't really fit. Black Studies is the study of Black people. Maybe some people will say "I'm not black-black, I am brown, I'm this, I'm that" The current class I'm taking is Race and Ethnicity. Why do we have to label? Why can't it just be our history?  But it's not. So, we have to give it something, Because that's what society says that we have to do. But how do we change it? I think every university student should be made to take Afro Studies class. It changes how you view the world. Afro Studies is not just told from the Black experience. It's just an experience that's told. They talk about Black people they talk about immigrants, about indigenous people, they talk about everybody. It's not whitewashed I don't care what we call it as long as we get it.
Professor Johnson taught me that. The class I would pick for everybody to take is Race and Urban Development. He [Professor Cedric Johnson] talked about everybody's fight. It's class intensive. What I go back to all the time is "those who have and those who do not." He talked about Argentina, about Russia. It was so powerful.
My last question to wrap everything up is what's next for Yvonne? What do you see yourself doing? What are your goals?
Livingston: I just applied and hope I get it to The Deans Advisory Council Board. UIC is a great school. I got accepted to DePaul and some others, but I chose to come here because it was close to home, and the price tag was right. But once I got here, the environment, I love it. I love talking to the faculty. I love being around younger peers because I get a different perspective about life. I know my perspective, I know the older perspective, but what are our youth doing? What are our young people interested in? What do you want to do? I see myself as a bridge. I'm a bridge to the older generation and the younger generation for us to work together, so for the next generation it would be better. Sometimes we're not aware of our own biases because that's how we were raised, that's what we know and what our community has done for so many years. The world is changing and it's changing rapidly, So it's either you get on board or you sit and be stuck in the past be miserable.
My kids challenge me. my oldest went off to school, came back. Every time he came back I'd be like "go back, I don't like what you're saying". My daughter took some feminist class, and I'm like "no, that's not what I taught you!" It was this tug of war, this push and pull. They started teaching my other kids. I got a houseful of kids [and I thought], "You got some old ways of thinking, Ma's not like that no more". Then coming here, coming back to school period, it challenged all of that. Now I want to spread and say it's okay to learn. It's okay to educate yourself. It's okay to change your views and your biases. Because what the world needs more of is [for us] to care about one another, we need to love one another. Not just based on the context of your skin color, but as a human being.
When I leave from here, I want to facilitate that. I want to be able to be well rounded so I can talk about politics, policy, mental health, the diaspora of people, because that's what psychology is, its understanding all of that, not just the mental aspect of person. Mental and physical together, you can't have one without the other. That's how I look at it. I'm tailoring my degree towards that so I can be able to help a person wholly, not just be focused on their mind. What does the rest of this look like?