Black Studies Response to Current Crises
The Department of Black Studies Response to Current Crises Heading link
The Department of Black Studies at UIC is devastated by the death of George Floyd in Minneapolis, Breonna Taylor, Tony McDade, and Ahmaud Abrery.  In the words of David Stovall, Professor of Black Studies and Criminology, Law and Justice, It is clear that Black people and all people experiencing oppression have had enough.  Enough of living our lives in perpetually precarious situations. Enough of having to justify our existence in a land founded on genocide, slavery and wrongful land appropriation.  As the faculty of Black Studies, we stand with people who are responding to the current moment of police terror. Given the fact that our department was founded as an extension of the community of Black people fighting for collective justice, we stand in solidarity with our comrades who are responding in the streets of Chicago, the nation and globally. The current publicized deaths of George Floyd, Breonna Taylor and Ahmaud Arbery are reflective of the collective terror inflicted on Black people since their arrival on the shores of the Western Hemisphere in the 16th century as chattel property. African-descended people have always resisted. Today, they are saying 'enough.' We are scholars, activists, and students all united around the common goal of interrogating, understanding and dismantling racism, sexism, inequality and injustice in all its forms. We support the world-wide protest movement his death has launched, as we are reminded that Mr. Floyd is one more of the hundreds of thousands of black people who have died simply because of who they are or how they are seen by others. The outbursts of rage and resistance that we see in cities across the U.S. reflects the compound damage of centuries of political, social, and economic discrimination. The people on the streets today are demanding to be heard after generations of being rendered voiceless.  The COVID-19 pandemic is killing black people at a disproportionate rate. The resulting economic depression has furthered damaged black people's fragile financial stability. We weep for the families who have lost loved ones and have suffered at the hands of state violence—many in local neighborhoods. From the 1919 Chicago riots to the Burge torture case and the death of Laquan McDonald, among many others, our city has a tragic and painful legacy of racial and government-sanctioned violence. But we are proud of the myriad ways that Chicago-area activists—many of whom are our students and alumni—are pushing the deaths of black people into the public arena and demanding change. We encourage you to find a path that promotes social justice, whether it be through study, organizing, creative work, or private contemplation. Rev. Martin Luther King, Jr. in an address at Stanford University, April 1967, "But in the final analysis, a riot is the language of the unheard. And what is it that America has failed to hear? It has failed to hear that the plight of the Negro poor has worsened over the last few years. It has failed to hear that the promises of freedom and justice have not been met. And it has failed to hear that large segments of white society are more concerned about tranquility and the status quo than about justice, equality, and humanity."

Professor and Head, Department of Black Studies

|
Ways You Can Connect & Learn Heading link
Here is a curated list of Chicago and Minneapolis-based organizations to follow, connect with, and learn from.
BLVC
Black Visions Collective (BLVC) is a Black-led, Queer and Trans centering organization in Minneapolis whose mission is to organize powerful, connected Black communities and dismantle systems of violence. We do this through building strategic campaigns, investing in Black leadership, and engaging in cultural and narrative organizing. Support BLVC. 
Reclaim the Block
Reclaim the Block is a community coalition to demand that Minneapolis divest from policing and invest in long-term alternatives that promote healthier, safer, more diverse communities. Support their work.
A List of various Podcasts you can listen to
BLST Faculty Weigh in on the Intersections of Covid-19, Police Violence & Protests Heading link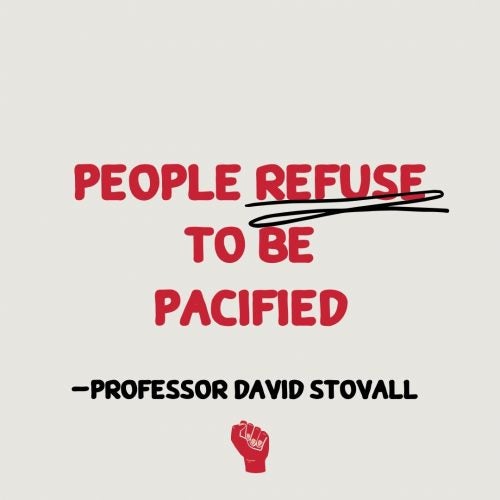 Why People are Protesting
"When you operate on a land that was founded on slavery, genocide and unlawful land appropriations, these are the things that constantly erupt to remind the general populace of what this place has always been..."