Student Spotlight: Sharaya Tindal
Sharaya Tindal speaks about her teaching experience as a TA for the Department of African American Studies. She talks about why her research is important to her personally.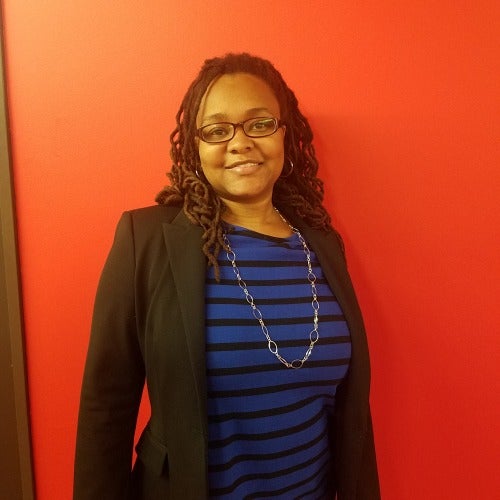 How long have you been at UIC and what influenced you to pursue your degree here?
Sharaya Tindal: This is the end of my third year. I wanted to come to UIC because it actually correlated with all of the things I really needed at the time. I wanted to work with academics that were looking at 1960s Freedom struggles and focusing on women.  At the same time, I had lived in Chicago for 5 years. I was married here, we have a house here, we also started the adoption process for our two kids, and so Chicago was kind of where I needed to be.
So before, when I applied for my program, I didn't have the kids but they came the same year that school started. It was really hectic. I was also looking at other places, but in all honesty, I wasn't interested in going anywhere. I was only interested in coming to UIC. I mean, I was looking at Wayne State because Danielle McGuire is there, and her book was really groundbreaking. It's the way I want to look at the civil rights movement here in Chicago. So, she would have been an ideal person to study under. But I didn't finish the app because I really didn't want to go Michigan.  I would just prefer to stay in Chicago. So, I put all my eggs in one basket, and you know, they all seemed to have hatched really nicely.
What is your specific concentration and how did you come to choose it?
Tindal: I am in American history because I am from the United States and I live in the United States and I've always thought it is really important to know the history and political mechanisms of the places in which you live and have been formed. For me, that's here. That's why my bachelors is in political science. No one in my family understood politics except for my conservative uncle, and so my mother and grandmother had all of these opinions based on nothing. Rather, based on feelings and assumptions gleaned from the 6 o'clock news. So, I wanted to have an intelligent political discourse with the rest of the world, and my family. Also, I wanted to shut up my conservative uncle, which I did, and everyone still talks about it! That's why I found this subject so important, and why it's so important to know your origin story. It colors everything that you do. Our particular lens, with which we view the world, I think, needs examining. So that's why I wanted to study US history, specifically the African American experience. I am black, I am a woman, sometimes the priority of those things shifts, but usually not.  I found that the history of the black experience and the black woman's experience is integral to American history. I was telling my class today that "You don't understand American history until you understand the experience of black women. Period." I got a couple of nods, and, you know, some "ohs" or "really", but I made sure to explain the concept of the full picture of history and said that until the antelope get a biographer, the lion will always write the history. And the story of the most marginalized individuals, which in our history has been the black woman, will not be told, and we don't get the full picture of American history.  If we're talking about the county's origin, about history, then we're talking about the history of black women. And until you know that, then you don't know American history. And that's what I think is really important to study.
Also, the struggles of black women in the mid-20th century through the freedom movement and the struggle for civil rights is fascinating. It's an unfinished journey. Strangely enough, I also wanted to study the freedom struggles of the mid-20th century because I think that street sociology and politics is real and important, and it needs to be validated. I think what people are talking about in the barbershop and the beauty salon are often worthwhile analyses. I believe they're right when they say there's a conspiracy against black life in this country; that's true. The evidence exists, it requires the proper research and analysis to be brought to light. I wanted to be able to walk into any public space, into the public discourse that black people are having, and tell them you are right and I can show you proof. No, you're not the crazy old barber. You're actually incredibly astute, and I'm sure no doctor or professor has ever told you that, but what they do is what you do. They just get to have degrees to do it. I think it's important to acknowledge that, you know? And it's funny that I've come full circle. In my life, my mother and grandmother saw social issues like anti-blackness, racism, and oppression of the poor, playing out and developed their ideas and assumptions, which aren't incorrect, they just aren't full and complete. So that was my goal, to make them full and complete and to validate those notions.
The other reason is, well, I was going through this journey of figuring out what I wanted to do with my life, and what the next step was going to be. My husband was really gracious and supportive to say "Take as long as you need and figure it out. Go find yourself." And I did that. In the process, I became very conscious of the things I was saying and what issues I was drawn to. And one question I kept asking about a myriad of topics was "I wonder what the origin behind that is? I bet there's a history behind that, I wonder what that is?" And one day it just hit me, maybe I like history. You know, sometimes the most profound things come to you, as an "oh, I guess I like history". It just made itself known. So I decided to apply to history programs and see who's talking about social justice, who are talking about the 1960's, who's talking about how black people were educated and self-educated? I think I came to the right place, and that's revealed itself more and more over the past three years. I was just looking at Elizabeth Todd-Breland and Barbara Ransby as resources, I didn't know I was going to get Jane Rhodes, Lynn Hudson, and Cynthia Blair, Jennie Brier. You know, it's just been a great journey so far.
Who are some of your mentors and why?
Tindal: I have two advisors and a mentor, Lynn Hudson. One of my advisors is famous, and the other was on fellowship. So you know, it's difficult to just walk into their offices and say "Oh, I've hit a wall" or "I think this idea doesn't make sense", and Lynn has really made herself available and when I needed it, filled that gap for me in a really, really beautiful way. I'm really incredibly indebted to her. I don't think I would have gotten this far if I hadn't had that kind of support. That was really important.
Jane Rhodes has also been really supportive, she was actually the chair of one of my minor field exams. We worked together over the summer, and she was always making herself available, which was incredible. She has been really enthusiastic about me teaching AAST248 this semester and made herself available if I need help – which is wonderful!
Jennifer Ash is my peer mentor and had been the single most valuable person I've met here at UIC. She has poured into my life in immeasurable ways. Ger guidance and influence have shaped my experience as a grad student in wonderful ways!
There are always women here at UIC, who are willing to help out other women scholars, all you have to do is ask. I think that's really incredible and I don't think that's everyone's experience in graduate school. I consider myself to be privileged to have this experience.
How long have you been teaching, and what has it taught you?
Tindal: Before I got here I was running the Restorative Justice Peace Hub over at St. Agatha's Catholic church over on the west side and doing substitute work at North Lawndale College Prep, which was really great. I'm not about the charter school life but that is one school that I actually really appreciate. They have these restorative models, which I think are really important. They emphasize college and higher ed, but in a way that I think is really healthy. I subbed there for a while and then I came here and started TAing since my first semester, so about 3 ½ years. It's been really satisfying. This is my first year leading a course, it's exciting.
How would you describe our department, and how has it helped you in your career path?
Tindal: It's cool up here. It's a simplistic way of putting it, but it's just a very cool vibe. It's very open and welcoming, and you must adjust, obviously at a new place as it can feel like you are jumping into a conversation that has been going on for years. But I don't feel like I can't jump into the conversation that's going on up here and be embraced.